The end of the year is an excellent time to make travel plans. Spending the holidays abroad or starting the new year with a trip to a magical place is an experience many of us look forward to. And visiting Iceland at this time of the year is a sure-fire way to create lasting memories, especially since there are many things to do in Reykjavik.
The capital of Iceland has been recommended as a must-visit destination by leading travel guides for many years now. This coastal city envelops a wealth of mesmerizing natural wonders, Viking history, and exciting food and nightlife scene.
Reykjavik is the northernmost capital city in the world. The specific climate creates unique conditions, making The Bay of Smokes one of the most beautiful places to visit in the world. Here, fiery volcanoes and crystal-like glaciers coexist in perfect harmony, showcasing the beauty of nature from a unique perspective. This vibrant city with a young spirit and a small-town charm is also an ideal launchpad for nearby attractions.
Due to its small size, the city allows a comfortable and neat journey filled with activities and lasting impressions even in a short time frame.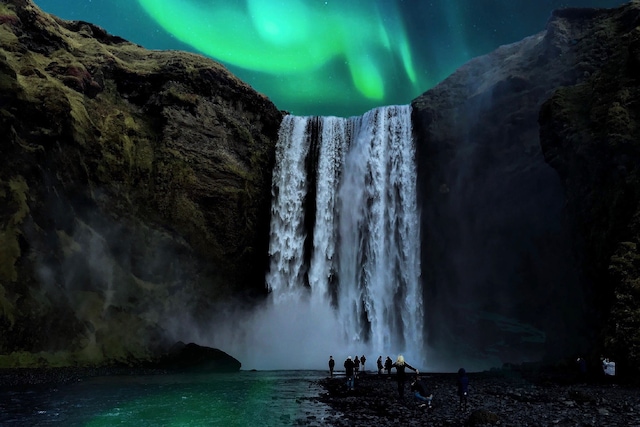 Whether you crave to reconnect with Mother Nature and indulge in its revitalizing powers or experience the fantastic atmosphere of the Nordic way of life, Reykjavik presents the perfect backdrop.
1. Hallgrimskirkja
One of the best ways to kickstart an adventure at a new place is with a lovely panoramic view of the surroundings you are about to explore. Hallgrimskirkja is the national sanctuary of Iceland, a prominent feature of the skyline of Reykjavik. On its top, it features a viewing platform that you can climb for a fee.
The architecture of this expressionist-style church was inspired by the basalt columns of the Svartifoss waterfall in the south of the country. The building is the work of one of most renowned architects of Iceland, Gudjon Samuelsson. The décor and fascinating ornaments of the church are by some of the most talented local artists.
Of course, traveling to Europe means discovering fantastic architectural masterpieces, each representing a gem of history.
2. National Museum of Iceland
There is no better place for history buffs to travel in time and experience 1,200 years of human history of Iceland. The National Museum of Iceland is where a legend of a knight slaying a dragon and befriending a lion comes to life. This and other fantastic tales are part of the foundations on which the national identity of this magical land is built.
The museum features permanent and seasonal exhibitions. The building hosting them is not impressive in itself. However, it is here that you will get a truly authentic flavor of Reykjavik and its spirit.
3. Harpan
While strolling along the Old Harbour in Reykjavik, you will notice a magnificent glass building along the water. That is Harpa, home of the Icelandic Symphonic Orchestra and Opera. The venue has a busy schedule all year round. During your stay in Reykjavik, you may catch a performance of some of the most famous bands of Iceland or an exhibition by some of its best artists.
In the Iceland Expo Pavilion, you can watch an impressive 360° film showcasing the natural wonders of Iceland. Harpa also has a café, restaurant, and a shop, so head here for a relaxing break after a long stroll in the Harbor.
4. Árbæjarsafn
Despite its small size, Reykjavik houses an impressive number of fantastic museums. Each of them offers an authentic and memorable experience. However, Arbejarsafn is a must-visit, and one of the best things to do in Reykjavik for those curious about what living in this place was like in the past.
An open-air museum, Arbejarsafn preserves a piece of old Reykjavik. It was built on an old farm, and most of the buildings date back to the 19th century. The museum is open from June to August, and it hosts special events during the holiday season in December.
5. Perlan
Situated atop the highest hill in Reykjavik, Perlan is more than just a museum. It offers an interactive and fun way to experience the essence of the land of fire and ice. Through the immersive exhibitions, you will have the opportunity to experience the highlights of Iceland from one place.
The Ice Cave and Tunnel of Perlan is a 100-meter-long ice cave allowing you to experience what it is like to walk through a glacier. The ice inside the cave projects a magnificent spectrum of colors, intensifying the impressions. Here you can catch a glimpse of puffins and spot the Northern Lights through the Arora show.
Visiting Perlan is one of the best things to do on your visit to Reykjavik. Your entire family is sure to love the experience.
As we are moving halfway through our list of the best things to do in Reykjavik, you may guess that living here would be a one-of-a-kind experience. And before we proceed to the other half of our list, here is a quick reminder. Make a point to plan and organize your international move with time to spare.
Also, remember that a good mover is your absolute trump card to ensure safe and easy transfer. With that sorted, you only need to figure out a stress-free unpacking process after your international move. And instead of pondering about moving trivialities, enjoy exploring Reykjavik and the best things to do in town.
The street art in Reykjavik traces its beginnings in the 90s'. Although its history is relatively new, the murals and graffiti throughout town are phenomenal. The Wall Poetry mural project showcases a collaboration between musicians and visual artists. Several international artists have designed wall art covering entire sides of buildings.
Hence, the Street art of Reykjavik is well-worth exploring in detail. You can consider organizing a leisure stroll around the city with the central theme of spotting unique wall art.
6. Bæjarins Beztu Pylsur
Of course, your visit to Reykjavik cannot go without tasting the local culinary specialties. The food scene of Reykjavik is diverse and exciting. The local cuisine is based on seafood and lamb as the main ingredients. If you are after a truly authentic gastronomical experience, then accept the dare from local Icelanders.
This involves trying the notorious fermented shark, which is considered a traditional Icelandic delicacy. And to keep in line with local traditions, this is washed with Brennivin, the signature spirit of Iceland. So, this is but a mere fraction of the flavorful adventures that Reykjavik offers.
Eat lamb or fish when in Iceland. Sure there are fantastic beef restaurants there, but the beef is very expensive and you get better beef for way less in other countries. Reindeer and some birds are great as well. There are many restaurants that specialize in vegetarian foods and get excellent feedback. Most restaurants have vegetarian options. It might be a bit harder on the country side, but you always have salads and pasta dishes.
Some foods you must try on your visit to Iceland are the famous hot dog of Reykjavik, called Pylsur in Icelandic and Skyr. It is an Icelandic cultured dairy protein product. It has the consistency of Greek yogurt, but with a milder flavor. It is low in fat and carbohydrates but high in protein. Has been eaten for centuries!
Icelandic ice creams are delicious. This is one of the most foods that Icelanders miss when they go live abroad. Some ice cream stores to check out to are Vesturbæjar ís, Isbúð Huppu & ísbúð Valdís to name a few. Icelanders are known for eating ice cream all year round, even in cold winter!
In The Bay of Smokes, you will find a wide array of international restaurants as well, serving anything from vegetarian to allegedly the best hot dogs in the world and everything in between.
The Icelandic horses are an absolute favorite among tourists and locals alike. They are small in size and friendly in nature, which makes them the perfect companion on your adventures to explore the terrain surrounding Reykjavik. Hence, horseback riding is among the best things to do in Iceland and an experience you are sure to remember fondly.
If you wish to stay as close as possible to the city without venturing inland, head to Raudholar. This translates as Red Hills, and it is part of Heiðmörk, a natural reserve in the outskirts of Reykjavik. Here, you can book a volcanic landscape horse riding tour no matter the season.
7. Lundey
Iceland is the whale-watching capital of Europe. And to many, it comes as a surprise that Reykjavik is one of the best spots in Iceland to indulge in this profound experience. Whale watching at Reykjavík remains a most popular tourist attraction when you travel to Iceland. In Reykjavík it is easier to see the minke whales (the smallest and the ones that likes to hunt the Japanese whalers).
The world's northernmost capital is situated next to Faxafloi bay which is shallow and rich in nutrients, making it attractive for minke whales. The whale watching tours in Reykjavik are available all year round. The whale watching tours are so popular that it runs day and night during summer when there is 24-hours sunlight.
A typical tour lasts less than 3 hours. Besides, it is likely that you will also spot white-beaked dolphins, puffins, and porpoises, so taking one of these tours is undoubtedly worthwhile.
8. Grótta
Besides Nuuk in Greenland, Reykjavik is the only capital city from which you can spot the Northern Lights. However, note that the further you get from the light pollution in the city, the better your aurora borealis show will be. The best time to see the Northern Lights in Iceland is from September to February.
The best spot in town to observe these incredible lights spectacle is the viewing platform of the above-mentioned Perlan Museum. Also, a short distance from Downtown is Grotta Nature Reserve. There is an old lighthouse here as well, making it the picture-perfect spot for experiencing this surreal natural phenomenon.
9. Nauthólsvík Geothermal Beach
You're amidst civilization in the capital city of the safest country in the world. There are no deadly wild animals in Reykjavik, and you are too far from the Eyjafjallajökull volcano. Get to know Iceland and the northernmost capital, Reykjavik, with its fabulous spa facilities, your way.
Enjoy your time in Iceland savoring the exceptional Icelandic food, its culture, unforgettable parties under the light of midnight in Reykjavík, or meet the gorgeous Icelanders in the thermal pools. Iceland probably has the most picturesque coastline in the world. This is what beaches would look like on another planet! But it's chilly here, even in the summer, yet completely worth a visit!
Here in Iceland, the sun shines almost around the clock during the summer months. The capital Reykjavik is a perfect weekend city with lots of sights and baths in hot springs.
If this excites you then Nauthólsvík, located in the capital Reykjavik, has an excellent beach resort for ocean swimmers. You can take a hot shower or jump into a hot tub right after your swim in one of the best hidden things to do in Iceland. Now remember you are closer to the North Pole, so yes the ocean around Iceland is one of the coldest place on earth.
10. FlyOver Iceland
The capital of Iceland is a literal treasure trove for travel fans. The aforementioned attractions merely scratch the surface of what fantastic sites are there to discover in the world's northernmost capital. As a bonus to our list, we cannot omit to mention the FlyOver Iceland attraction.
It combines technology, cinema, and the art of storytelling to indulge visitors in a multi-projection experience that they will certainly remember for years to come. This is a fantastic way to vividly experience Iceland's past and its mesmerizing natural beauty. FlyOver Iceland is one of the latest attractions and among the best things to do in Reykjavik.
Therefore, make a point to pay a visit and see first-hand why visitors and locals are impressed by it.