Every year between October and November, India celebrates Diwali, the festival of lights, which marks the beginning of the new year. It is also traditional to prepare tasty recipes and exchange sweets and gifts. Diwali can be a good excuse to try something different than what we are used to. What to eat during Diwali? The shops get filled with a spectacular variety of sweets prepared for this festival.
While it's easy to be perplexed about Barfi in the form of a diamond or a dish of syrupy Gulab Jamun, an enthusiastic adventurer quickly discovers the addictive quality of Indian sweets. Just a bite and the fragrant and exotic Indian desserts suddenly become something they crave, especially during festive occasions like Diwali, the Indian festival of lights that takes place during the new moon, between October and November.
Traditionally, most Indian sweets are not baked, instead they are cooked on the stove or over an open fire. Which are the ingredients? Well, it depends on the region, but the usual suspects are milk, chickpea flour, semolina, coconut and rice. By themselves, these ingredients may not sound too appetizing, but a knowledgeable cook can easily transform into delicious sweets flavored with cardamom, saffron and rose water.
Milk is very important in India, especially for the preparation of desserts. Whether with cheese dumplings, chocolate, pudding, ice cream or sauce, milk acquires a number of ways to satisfy the most demanding palates. Below you will find a list of the most commonly enjoyed Indian sweets during Diwali: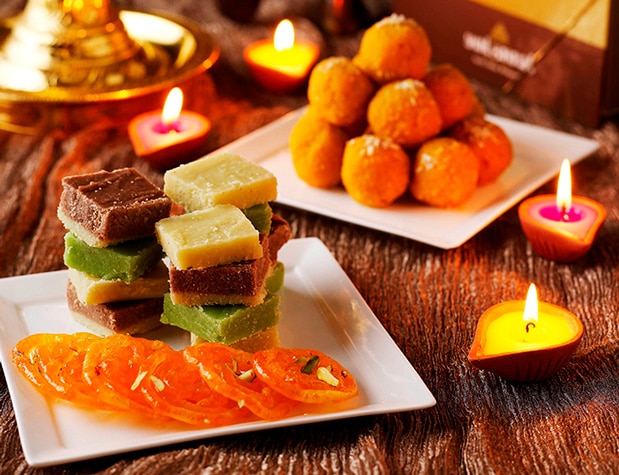 1. Gulab Jamun
The original Indian gulab jamun is a melt-in-the-mouth delicious dessert made with khoya (milk solids), deep fried at very low heat in pure ghee, and then dipped in flavored sugar syrup. Often referred to as Indian donuts, Gulab Jamun are fried dumplings that are soaked in a sugar syrup mixed with rose water.
Intensely sweet, only a small ball of dough will be enough to satisfy your craving unless, of course, you have a great sweet tooth. The good old pleasure made with khoya, fried with gold and finally dipped in the sugar syrup induced by saffron is also a party favorite!
2. Jalebi
Sweet, sticky and irresistible, they are fried Indian sweets that are soaked in sugar syrup. The batter is commonly made from chickpea flour and the yellow color is derived from saffron or sometimes artificial colors.
How to prepare Jalebi?
Take some All Purpose Flour, put some curd and ghee in it and make a batter by adding water in it. Add kukewarm water in winters. Then cover it and keep it at warm place for a day. The batter will get fermented, then add some more all purpose flour and water and make a loose batter. Then put some food colour in it.
Make sugar syrup and put some cardamom powder in it and turn off the flame.
Take a flat iron wok and put a ring in it. Take a dry coconut and make a hole in it and put the Jalebi batter in it and then make the big size Jalebi in the wok. If you don't have flat iron pan then you can use small tea pan as well for making the big Jalebis directly without any mold. Dip the Jalebi in the sugar syrup and take it out in few seconds.
3. Kheer Payasam
Kheer is one of the most traditional Indian desserts. Rice is cooked in milk until it is done and then the mixture is thickened. Saffron and cardamom are both often used to enhance flavors and kheer is finally garnished with nuts and raisins.
A creamy rice with Indian milk mixed with cardamom, kheer is often prepared with almonds and sliced ​​bleached raisins. It is commonly improved with saffron for very festive occasions, such as Diwali or weddings. Kheer is the common sweet among Indians and is currently preparing all the holidays and celebrations. Kheer can be made of vermicelli or rice and the important ingredients are milk and sugar.
The south Indian version of kheer is known as payasam. Payasams are nothing but sweet puddings of Southern India and Tamil Nadu does have many types of Payasams like Arisi Payasa Paal Payasam, Javvirisi Payasam, Semiya Payasam, Thinnai Payasam, Kavuniarisi Payasam, Vellam Payasam, etc. Deliciously creamy pudding, rice and milk with cashews and raisins.
Shahi Kheer, also called Makhana Pudding is a very traditional dessert similar to pudding. Makhana is blown lotus flower seeds and resembles popcorn. Shahi means rich and real. The texture of the nuts and the creaminess of the milk make this super dessert. By adding caramelized sugar with saffron and cardamom, a very subtle and unique kheer taste is added.
Preparation of the Kheer
:
Pour the milk into a saucepan and boil for a few minutes. Keep the flame low. Mix the milk continuously to become a little thick. Put some sugar in the milk and stir constantly until the sugar dissolves in the milk. When the milk is ready, put the rice in the milk and boil it for sometimes, while the stirring is at intervals. When the rice is cooked, garnish chopped cashew nuts With it, cardamom and raisins.
4. Ladoo
These ball-shaped sweets are often made from chickpea flour or semolina or shredded coconut depending on the region. The dough is cooked to form a paste and then small balls are formed when it cools. Moong Dal Ladoos are traditional Indian festive desserts. The Ladoos are made with different flours or roasted lentils, clarified butter and sugar. You will find ladoos for every celebration.
Boondi Ke Ladoo is similar to those mentioned above, with one exception: they are very fried. Small drops of the dough are dropped into the hot oil and then soaked in a simple syrup and form balls. Nariyal Ka Ladoo or Coconut Ladoo, a delicious homemade dessert can also serve as candy. This is easy to prepare. One of the simplest recipes to make with just a few ingredients. The Narkel Naru in bengal is popular during Kojagari Lakshmi Puja.
Pinni is a laddo made of whole wheat flour cooked in ghee and stuffled with dry fruits and fox nuts. How to prepare them? The chickpea flour is mixed with water to create a dough. We then proceed to fry the balls in the boiling oil which will make up the ladoos using a perforated ladle to pour the mixture into the oil in small quantities.
Once browned the balls must be extracted from the oil and pour into a hot sugar syrup (prepared simply with water and sugar and kept warm even in a bain-marie). At this point, the mixture of fried balls and syrup is added with the spices and any chopped nuts, butter and the ladoos are created, about 5 cm in diameter.
Rava Urundai is again made up of semolina, sugar and coconut and is mostly done in festival times. Pachai Payaru Urundai is made from jaggery and green gram which is later dipped in Maida flour and fried. Nei Maavu is a sweet as well as a evening snack which is prepared from ghee, drumstick leaves, sugar and ragi powder.
Preparation of the Khoya Laddu
:
Roast the khoya in a slow fire until golden yellow. Let it cool for some time and after cooling add some coarsely powdered sesame seeds to khoya and mix well. Add the sugar When the mixture above becomes warm. Mix well and make in the form of small balls. Make sure the mixture should not be too hot or else the sugar will melt and the balls perfect would not have been made. Finally decorate with Kesar, almonds and khoya.
5. Rasmalai
An intoxicatingly aromatic dish of cottage cheese meatballs laden with cardamom infused with milk syrup. Rasmalai comes from West Bengal, but enjoys much of India.
6. Barfi
Usually cut in a diamond or square shape, Barfi is a sweet Indian dough made with condensed milk and sugar (but not only). Coconut, almonds, pistachios and edible silver bread are common additions. This is a childhood favorite with many! Barfi made with cashews and milk, garnished with silver varq.
Usually exchanged as a sweet gift on special occasions. The dessert of every occasion and the mother of sweets, Kaju Barfi is undoubtedly loved everywhere. Kaju Katli, made with cashew nuts and often coated with a thin film of an edible silver leaf is most popular. In fact, if ever there is a time to experience the best sweets in India, it is during Diwali.
Thengai Burfi are made from coconut and sugar while Kalla Burfis are made from Groundnuts and Jaggery.
Preparation of the Kaju Katli
:
For those who want to prepare them at home, grind half a bowl of raw cashew nuts to a fine powder. Grease a frying pan with ghee. Mix half a cup of water and sugar until it dissolves. Put it in the pan and boil for a few minutes, over low heat until it has reduced and is sticky. Add the cashew nuts and mix well. Stir for four or five minutes, until they do not stick to the walls of the pan. Be careful not to burn it.
Remove from heat. With wet hands knead the mixture. Flatten it with a wet roller with a little water so that it does not glue the dough. Make a thin layer and cut it into pieces (the custom is to do it in the form of diamond shapes). It is also customary to glue edible silver leaves on one of their sides.
7. Kesar Peda
Pedas are made with condensed milk, butter and dehydrated milk. What used to be a time-consuming process, now thanks to milk powder are very easy to make.
8. Falooda
Falooda is best described as a sweet drink that is really corn vermicelli. This is a delicious combination of layered Falooda with milk, sweet basil and vanilla ice cream. I like serving this with mango. This can be a snack anytime! Falooda is popular among Mumbai street vendors. This chilled beverage-dessert is the perfect way to cool off in the summer heat.
9. Agra Ka Petha
A specialty of the city of Agra, with its famous Taj Mahal, these translucent soft candies are made with a local pumpkin and are often flavored with spices and rose water.
10. Kulfi
Intensely sweet and dense, kulfi is for the Indians what gelato is for the Italians. A famous sweet ice cream that is sinfully rich, thick and creamy. Since it is not beaten, kulfi freezes as a solid mass so it is best to let it sit for a minute before being devoured. You need full fat milk, sugar, dry fruits. Bring milk to boil on medium to low flame and keep stirring it until it becomes slightly yellow and scrap the sides of pan.
Add sugar and dry fruits and mix it well and let it cool before you put it into molds and the put them into freezer for at least 4-5 hours and your dry fruit kulfi is ready.
11. Halwa
Warm up your winter with this recipe that will delight even the most demanding of sweet eaters! Gajar Ka Halwa is made with grated carrot, condensed milk, walnuts and golden varq. Traditionally, raw grated carrots are cooked in full fat milk. When the milk is completely thickened and blended with the carrots, then a little ghee is added and the dessert is fried for some time.
Finally, Gajar ka Halwa is garnished with cashews and flavored with cardamom powder.
Sheera or Sooji Halwa or Rava Sheera is a traditional but popular dessert. Sooji Halwa is delicious and a welcome gift for guests.
Kesari is again a sweet dish that is made up of semolina, sugar and ghee. Rava Kesari is a popular sweet dish of southern India which is a different version of Sooji ka Halwa. Rava Kesari is delicious and easy to prepare, usually done on festive occasions. This is a quick solution, especially if you have unexpected guests.
Besan Ka Halwa is a traditional Indian dessert made with different flours, lentils, walnuts and vegetables. Besan Ka Halwa is one of my favorite Halwa. This is a delicious even quick and easy to make. When you roast the besan, the house is full of sweet aroma. Besan Ka Halwa is also gluten-free.
Though Halwa are from Northern India, Tirunelveli Halwa is very famous for its unique taste and style of preparation.
How to prepare Almond Sheera?
First the saffron is crushed and dissolved in the warm milk. Keep this milk saffron aside. The peeled almonds are dry and powdered. Set aside 10 almonds to garnish. Melt the clarified butter in a large, heavy pan and add the flour to it. Stir and cook this for 2-3 minutes. Then add some almond powder to the mixture and stir again and fry the dough until it turns golden and give a pleasant aroma.
The mixture must be continuously stirred. Add some water and shake again and cook it. Add some sugar to it. When the ghee oozes, add the cardamom and saffron to the mixture. Then mix and put the prepared dish in a serving dish and garnish with the chopped almonds.
12. Rasgulla
One of the easiest ways to satisfy the sweet tooth! Many Indian sweets are made with milk and even rasgulla fall into this category. Rasgulla are a popular Bengali sweet made with small balls of chenna (a fresh cheese made from curdled milk) that is cooked in sugar syrup. You may find canned rasgulla in ethnic food stores, but they are actually quite easy to make at home if you follow a few suggestions.
Making Rasgullas at home is easy! It just requires patience and strong cravings to make them. People are often in this misconception that making Ragullas are tough. But if you follow these easy steps, it'll be a cakewalk! Also, it is a 3 ingredient recipe. Yes! you read that right. It only requires milk, lemon juice/vinegar and sugar. So Rasgullas can definitely be made at home.
The rasgulla, if done correctly, are soft and spongy, with a sugary taste that penetrates the smooth balls. Every bite is a sweet and milky delight.
Here's how to make the rasgulla at home.
Use whole milk or whole cow's milk - the fat content influences the final consistency of the rasgulla. The addition of lemon juice to hot milk will make the milk curdle. Keep stirring at this stage, until it seems that you no longer curdle. At this stage you can add some ice water to the mix to prevent the chenna from cooking further.
Place a colander on the sink, lined with a muslin cloth or gauze, then pour the curdled milk into the colander. Rinse with cold water, then drain completely. You can hang the chenna on a bowl for 1 hour to drain the excess liquid or, alternatively, place it on a clean cloth and weigh it down with a pan to squeeze out the whey.
The chenna will start to become crumbly and grainy. Knead with your fingers until you get a smooth dough. It may take a few minutes, depending on the quality of the milk you used. When you see the texture change, from brittle to smooth, stop. Excessive dough will make the chenna sticky.
Boiling rasgulla over high heat can make them gummy. Keep the water boiling well, in a large pot, which will be easier to monitor if you have a glass lid. Otherwise, open the lid after 5 minutes to check the heat. The rasgulla will double, then shrink later, while they will cool to room temperature.
The gift of Bengal to all of India, Sandesh is now popular in many parts of the world. Pineapple Sandesh is a popular Bengali dessert. This is a healthy and delicious dessert and a great dessert for sophisticated and easy-to-do people.
13. Aam Shrikhand
A favorite Gujarati made with hanging curd. Few ingredients, great flavors! In this recipe slightly sweetened yogurt is dotted with pieces of mango and served with a spicy mango salad. Mango Shrikhand is a sweet refreshing dish made with yogurt. Shrikhand with mango makes it a very delicious dessert. This exotic dessert is easy to prepare and the Shrikhand is often served with poems.
14. Soan Papdi
One of the desserts of this popular festival is the Soan papdi or Sohan papdi. It is considered a good omen and is used in many festivals, rituals and ceremonies. Sohan Papdi recipe is not too complex, and the main difficulty regards the consistency of the dessert (which depends on the exact processing of the sugar and the temperature of the various compounds), which is fluffy and soft.
Here's how to make the Soan Papdi at home.
First of all sift both the gram and plain flours, slowly going to add them to two thirds of clarified butter, to put in a small pot to be heated on the stove. In the process continue to turn with a spoon to avoid the formation of lumps. When the mixture reaches the boiling point, add the previously chopped cardamom seeds, continuing to mix with a spoon until the whole does not reach a caramel color.
Meanwhile, in a non-stick pan put the remaining ghee, the sugar and the water, bringing this mixture to the boil and then pouring the spoons of honey or glucose. Also here, continue to mix to bring it to the caramel color, then remove from the heat and, still turning with the spoon, wait for it to reach the desired consistency.
Now combine the two compounds, being careful to incorporate the sugar well, which will have to spin, and to absorb the flour mix well. Pour on a sheet of baking paper, cover with another sheet to create the shape of a rectangle, helping with a rolling pin to compact the cake.
Now cover the upper part with almonds and pistachios, chopped according to taste, and with the knife make a grid to mark the "pieces" of the Soan Papdi. Wait about half an hour for the mixture to cool and harden, and then serve dessert on the table and enjoy it.
15. Nankhatai
Nankhatai, Nan Khatai or Nankatai. It always refers to the same, to these typical Indian cookies that are tasted mainly during the Diwali festival, when they can be found in any establishment or in a multitude of carts in the street. The main ingredients are flour, sugar, ghee or clarified butter and something to flavor and decorate.
With a mixture of this ghee, or a substitute like sunflower oil, flour and sugar, as the main ingredients, plus what you want to add, a dough is made that is divided into small balls and that, once arranged on the baking sheet, are crushed a little with the thumb leaving a slit on the surface.
Here's how to make the Nankhatai at home.
Ingredients: 90 grams wheat flour - 60 grams chickpea flour - 30 grams all purpose flour - 60 grams sugar - 125 grams sunflower oil (or clarified butter) - 1/4 teaspoon cardamom powder or ground seeds - 1/4 teaspoon cinnamon powder - chopped almonds and/or pistachios to decorate
1. In a large bowl mix the sifted flours, glass sugar and the spices.
2. Slowly add the oil, do not add everything at once.
3. Mix and knead the dough with your hands. In the end it will have a texture that crumbles easily.
4. Make some small balls shaping them with your hands, about 20 grams, and place them on the baking sheet. It is not necessary to grease it because they do not stick but put a baking paper. They do not extend in width but when they are baked they open up, so leave a little space between each other.
5. With the thumb press lightly and crush them a little while with the finger make a slit. Sprinkle ground or chopped almonds or pistachios. They can burn a little.
6. Bake 15-20 minutes at 170 degrees Celsius in the preheated oven. Take out and let cool on a rack.
16. Gulgula
The gulgula are a traditional dessert typical of many regions of India, often prepared for special holidays. Easy and quick to prepare, they are based on flour, sugar and spices. These ingredients are often combined with other ingredients, from yogurt to fruit. The gulgula are typical Bengali sweets. Although the base does not change, it is often the ingredients within it that rotate. we propose a banana variant.
If you have bananas that are too ripe and destined for the dustbin, don't waste them and try them in this recipe. The more mature they are, the more delicious they will be.
Here's how to make the gulgula at home.
1) In a saucer, peel and crush 3 ripe bananas with a fork.
2) In a bowl, combine 125 grams all purpose flour, 1 teaspoon baking powder, 40 grams brown sugar, ½ teaspoon salt and 1 pinch powdered cinnamon.
3) Add the crushed bananas to the powders. if they are mature enough, you probably won't need to add water or milk. You have to get a moist batter, so in case it is too dry add one tablespoon of water or milk at a time.
4) In a frying pan, heat 4-5 centimeters of oil at medium temperature.
5) Using two spoons, create batter ovals and place them gently in the oil at a temperature.
6) Fry, turning once, until they are golden brown to perfection. Transfer them to absorbent paper.
7) Allow to rest for a few minutes.
8) Serve; even with a sprinkle of icing sugar!
17. Namak para
Namak para or namakpare, also nimki or nimkin or namkin is a crunchy savoury snack eaten in the Indian subcontinent. It is also referred as Mathri sometimes in some parts of Punjab and Uttar Pradesh. Take maida and add one teaspoon of ghee or oil. Than add half spoon of salt followed by half spoon of carom seeds. Now knead the dough. Remember to knead stiff dough. You don't need too soft dough.
Now after that let the dought rest for 1 hour or half hour. Than take some dough and roll it in circular form just like chappati. You need to role it thinly. Now take knife and cut it in vertical and than horizontal. Then normally fry the above shape. Your namak pare is ready. Remember to fry namak pare on medium flame. You don't need high flame.
18. Puran poli
This is another common sweet dish that people make on many festivals including Diwali, Holi, Ganesh Chaturthi, Gudhi Padwa, etc. It is a chapati/roti but the flour is mixed with puran (jaggery, gram flour and some other spices) from the inside.
Poli or Obbattu/Holige in South India is a flat sweet bread made from maida, jaggery and coconut.
19. Chocolate Cookies
No recipe is complete without deserts. But deserts are one of the biggest reasons for weight gain and increased sugar levels. But replacing all-purpose flour to make chocolate cookies and cakes with Jowar is a healthy and tasty alternative. The best part is you can relish this without guilt!
20. Adhirasam
Its a famous sweet dish that is made in Tamil Nadu and prepared during Deepawali. Its made up of jaggery and rice flour and one of the difficult sweet to be made.
21. Kozhukattai
Kozhukattai is a sweet dish thta is prepared on the days of Vinayagar Chaturthi and Karthigai Deepam. It is made up of pooranams that are stuffed between wet flour and are steamed.
20. Singori
Singori is the most delicious sweet of Uttarakhand. Milk is boiled along with cardamom, nuts and sugar till it turn into khoya which is than poured into leaf of Malu plant. The fragrance of Malu leaf and Cardamom gives a special taste to this Khoya delicacy which is eaten by a stick or a spoon.
Diwali is one of the important festivals in
India
. It is the perfect occasion to indulge in sweets again and remember the longing memories.